Model Guidance Four Panel Displays
☰
Menu
Four panel products display 4 different images on the same page.
They are available on the Model Guidance Product Page, for two model types:
PANELS: All products under this model type are 4-panel displays. Some selections display a similar product from 4 different models, while others display 4 products from the same model.
HRRR: A single four panel product is available under the row labeled 'Four Panel', which displays 4 HRRR products on the same page.
The PANELS Four Panel Product page
After arriving on this page by choosing 'PANELS' and an area on the Model Guidance page, the four panel products available are listed under their respective categories. To see the cycles available for a product, you must first select a product by clicking on its name. The product name will turn red, the cycles available for that product will populate the Cycles box, and the latest cycle will be chosen. The forecast hours available for that cycle will be displayed below. Once a product is chosen, more information on each of the 4 component products can be displayed by clicking on the Open product information button.
To view the products from a previous cycle, click on the desired MM/DD/YYYY HHUTC link. That link will turn red, and the page will show the forecast hours avalable for that cycle.
When a four panel product is selected, then clicking on a forecast hour displays four images on the same page.
The figure below shows the PANELS selection for GFS_200_wnd_ht,500_vort_ht,1000_500_thick,850_temp_ht.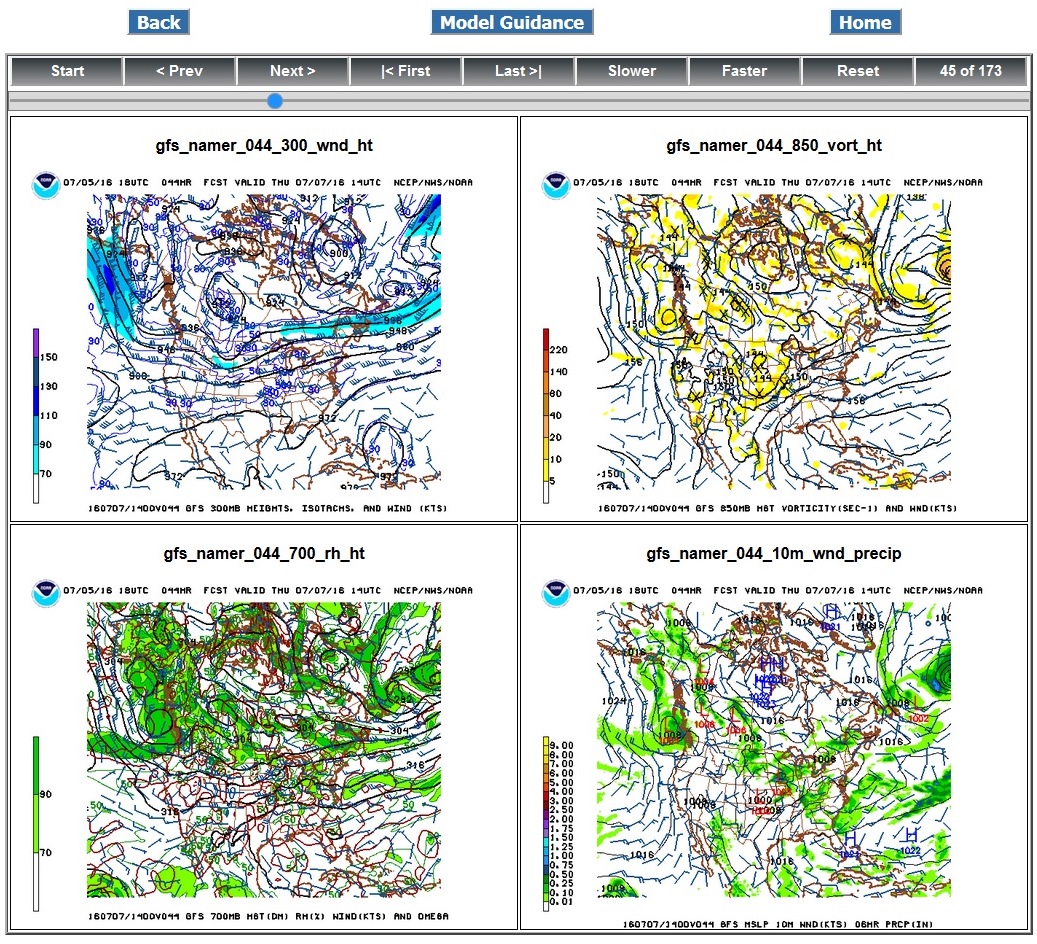 Next and Previous keys may be used, the same as for the single image display. Looping may also be started.
The Back button returns to the Model Guidance Product page. The Home button returns to the MAG home page.
The HRRR Four Panel Product Page
After arriving on this page by choosing 'HRRR' and an area on the Model Guidance page, the single four panel product for HRRR (500_vort_ht,1000_500_thick,700_rh_ht,850_temp_ht) is listed under 'Four Panel'. The only difference in the function of this page and the PANELS Four Panel product page is that the available cycles are displayed the Cycles box without having to click on the product first.