MAG Home Page
☰
Menu
The MAG website's Home page presents the user with the choice of four categories:
Model Guidance: Provides a path to view products created from the National Weather Service's (NWS) numerical model output including regional and global models.
Observations and Analyses: Provides a path to view the Real-Time Mesoscale Analysis (RTMA) products, Upper Air(UAIR) Height Plots, and Upper Air Sounding Plots (Skew T plots)
Tropical Guidance: Provides a path to view products created by the National Weather Service's Tropical Cyclone models. These products are only available when tropical cyclones that meet stated criteria are active in the Atlantic or Pacific areas.
Forecast Soundings: display of model soundings and station stability indices.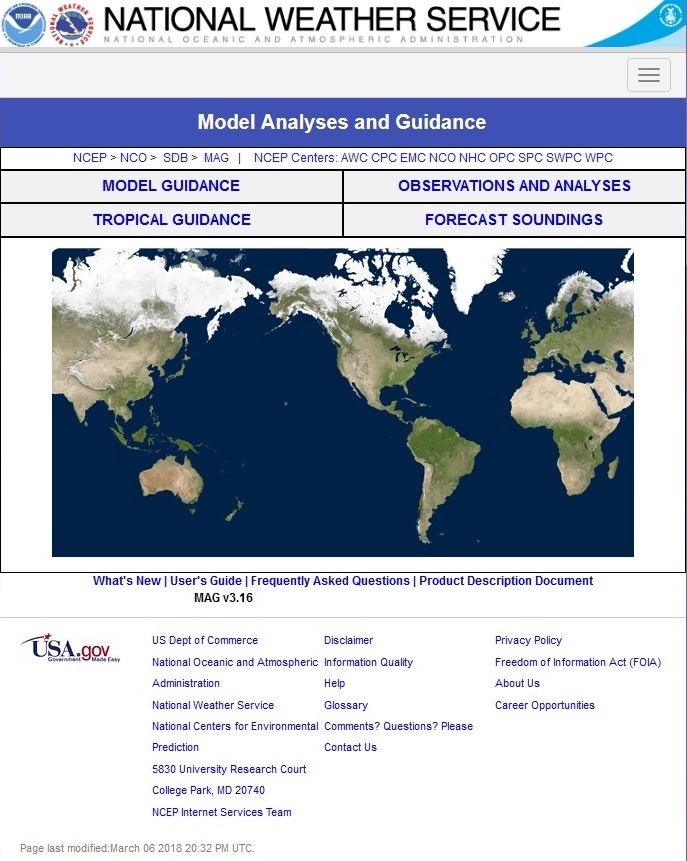 Users can obtain a description for each category by hovering the mouse pointer over each selection. A text window appears further describing each category.
The world map graphic displays a rectangle around each geographic area selected in the Model Guidance and Observations and Analyses pages. When a user clicks on the map, at the home page, a text box appears alerting the user to "Select Model Guidance, Observations and Analyses, or Tropical Guidance".
Users can access the following information by clicking the links below the world map:
What's New – A list of changes, improvements and fixes to the site. These are most often derived from requests and inquiries from our user community.
Users Guide – The web pages in the help directory.
Frequently Asked Questions – A list of questions from our user community where issues are encountered that are outside the control of the web application programmer. These may be related to system configuration tips, or required software and browser plug-ins to quirks we have noted or that have been reported with a particular browser model or version.
Product Description Document – A document describing the models themselves and the products, the combination of meteorological fields that comprise each product, and the geographic areas covered by each model.
Below the four links is listed the current MAG version, and the current location from where the MAG data is being served.